LGBT Friendly Employer 2020 awards
LGBT Friendly Employer Award acknowledges, motivates and makes visible employers that introduce measures leading to better inclusion of LGBT employees in the Czech Republic. The award assesses the strategic approach to this area, specific projects and tools, as well as the way of supporting the topic by the top management and communicating it both internally and externally.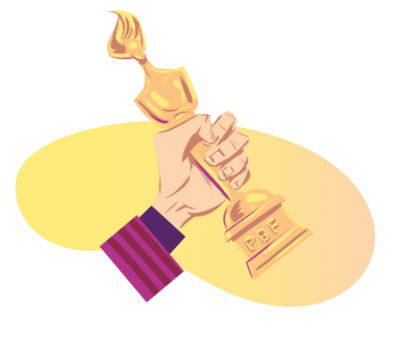 Champion: IBM
The jury praised IBM's comprehensive approach to LGBT equality in the workplace, including setting internal rules against discrimination and homophobic / transphobic bullying, a proactive approach to recruiting and retaining LGBT talent, active work by internal employee resource group and strong support for LGBT people in Czech society. In particular, the jury praised the active role that IBM's management played in the country's debate on equal marriage in 2019.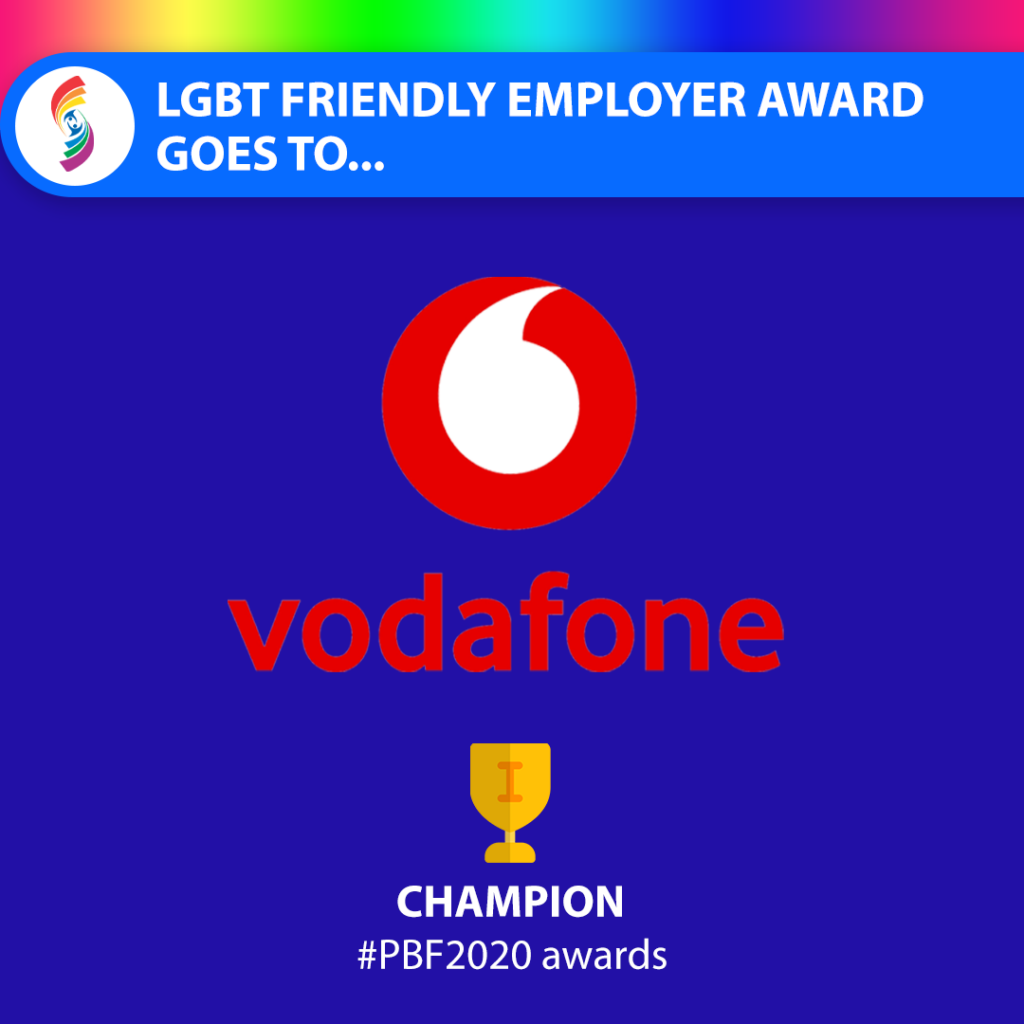 Champion: Vodafone
Vodafone has won the award for the third time, which proves their long-term and deep commitment to LGBT equality in the Czech workplace. Vodafone is a true champion in this area and can serve as an example of best practices in the Czech market. Vodafone won for creating the perfect mix of all elements, resulting in a workplace that is inclusive and open to all. The jury especially appreciated the fact that Vodafone does not rest on its laurels, but is constantly trying to improve. In 2019, the company adopted new employee benefits for people in transition and extended parental benefits to all parents, including same-sex parents.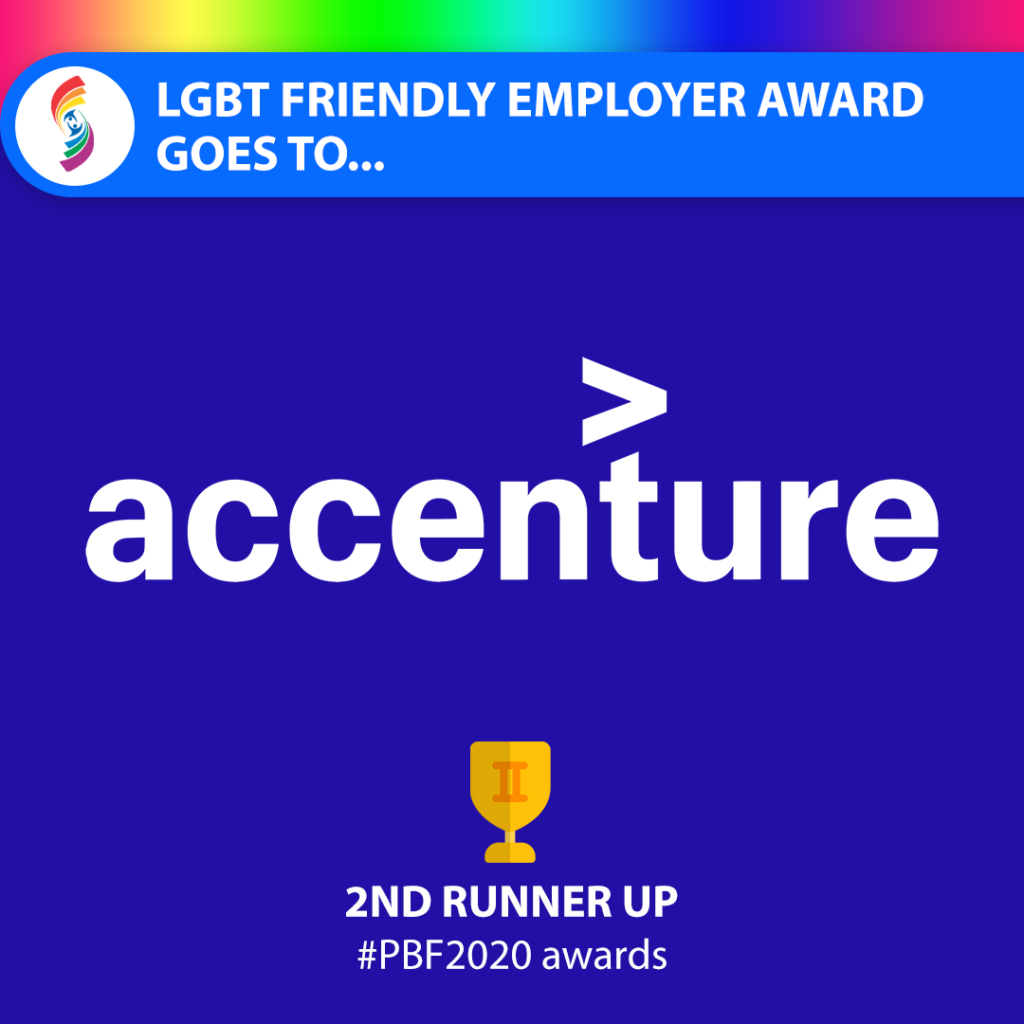 2nd Runner Up: Accenture
Accenture has long been at the forefront of this award and rightly so. The jury praised Accenture's comprehensive approach to LGBT equality in the workplace. From setting internal regulations to working with employees, the jury highlighted the work with rainbow lanyards for opening up the work environment. The jury appreciated the internal employee resource group's activities: Accenture traditionally excels in supporting management in this area and in active internal and external communication.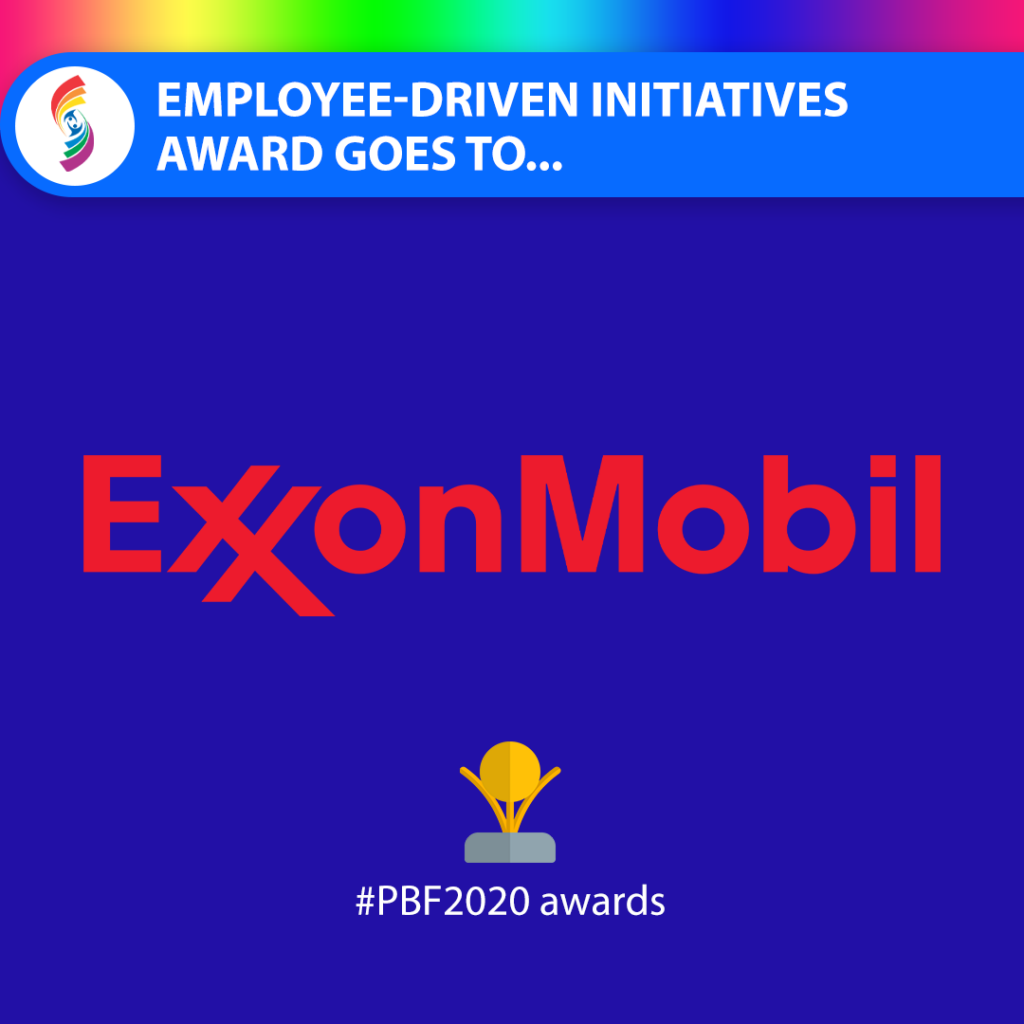 Employee-driven initiatives: ExxonMobil
This is third time that ExxonMobil has received an award in this subcategory, which proves that its LGBT internal employee resource group is one of the best in the Czech market. Its proactive approach to promoting LGBT equality in the workplace is unique, and is a shining example showing that voluntary activities by employees can influence the workplace culture and the behavior of the whole company. The jury was impressed by the Ally Engagement Project, which the group started in 2019 and which attracted the attention of many employees to the group's activities.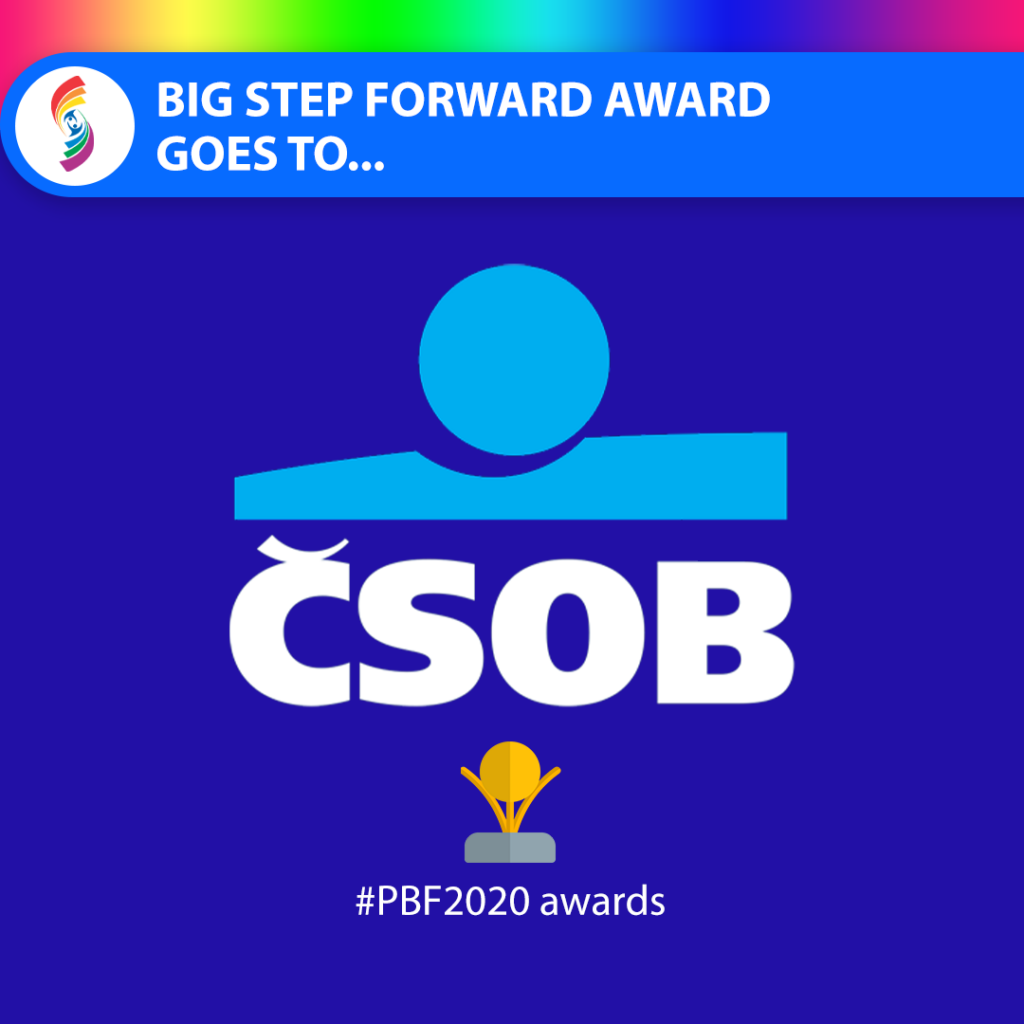 Big Step Forward: ČSOB
ČSOB only recently began to address the topic of LGBT equality in the workplace, but from the very beginning it focused heavily on this area and has taken a huge step forward in such a short time. Its LGBT internal employee resource group was only established in 2019. ČSOB joined the Pride Business Forum and began to change its employee benefits to make them the same for LGBT employees. All this is possible only thanks to the unique cooperation between the LGBT lead, the HR department and the company's management. Thanks to this synergy, ČSOB has now received the Big Step Forward 2020 award.
Pride Business Forum Heroes 2020 Awards
The Pride Business Forum Heroes is awarded to individuals and highlights the role of members of the top management of organizations/companies who actively fight for equal conditions for LGBT employees in their organizations/companies, or proactively strive for a better position of LGBT persons in society.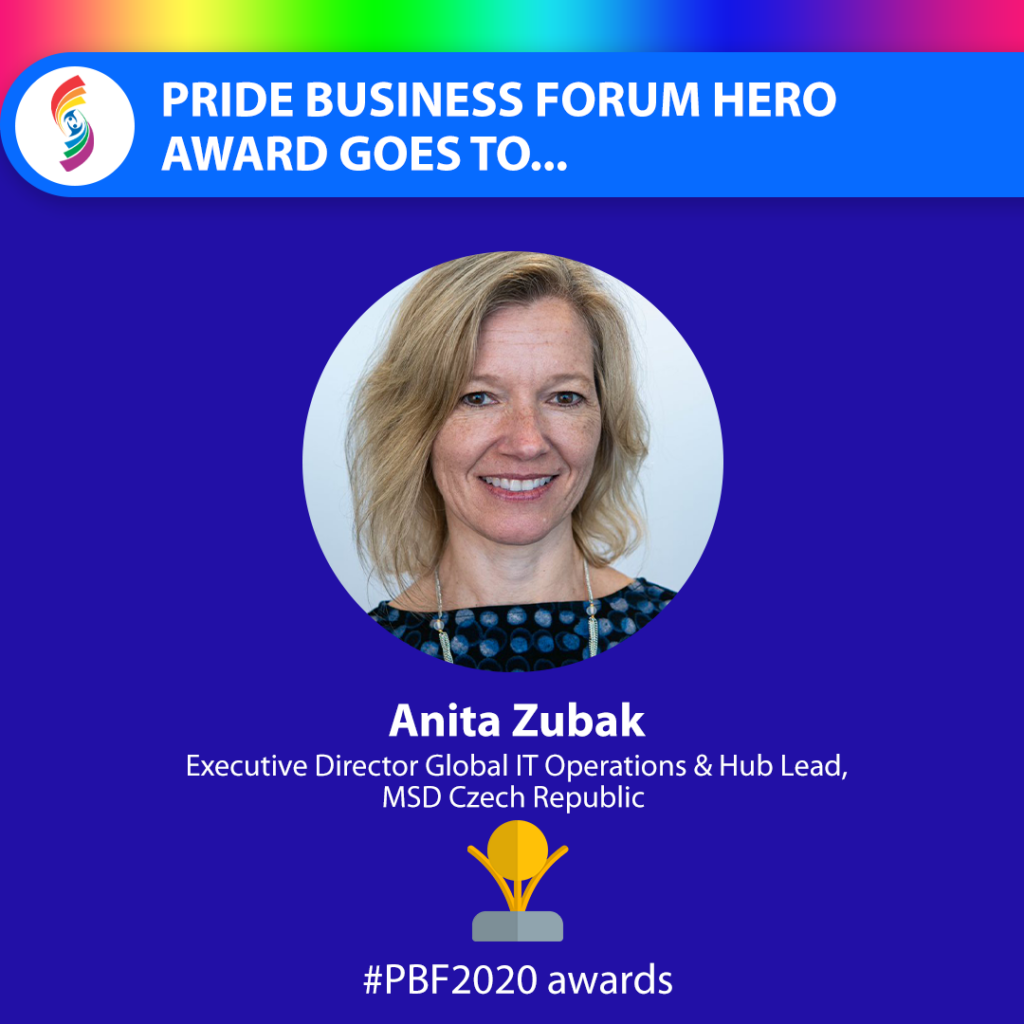 Anita Zubak, Executive Director Global IT Operations & Hub Lead, MSD Czech Republic
MSD Czech Republic launched the Czech Chapter of the Rainbow Alliance in September 2018, and Anita has been it's strongest and most visible supporter. Anita drove all discussions internally to march in the Pride Parade in 2019, despite the very conservative approach with MSD's external brand. In the end, with Anita's support, over 30 colleagues and their family members marched in the parade, representing MSD and breaking the old perceptions in our region. In addition, MSD raised the rainbow flag on top of it's building and hosted internal LGBT events. Anita was part of all of that. Now with Anita's full support, MSD have signed the Pride Business Forum Memorandum, making MSD CZ full members of the initiative. MSD has Anita's energy, drive and support to thank for the incredible progress the company has made in such a short time.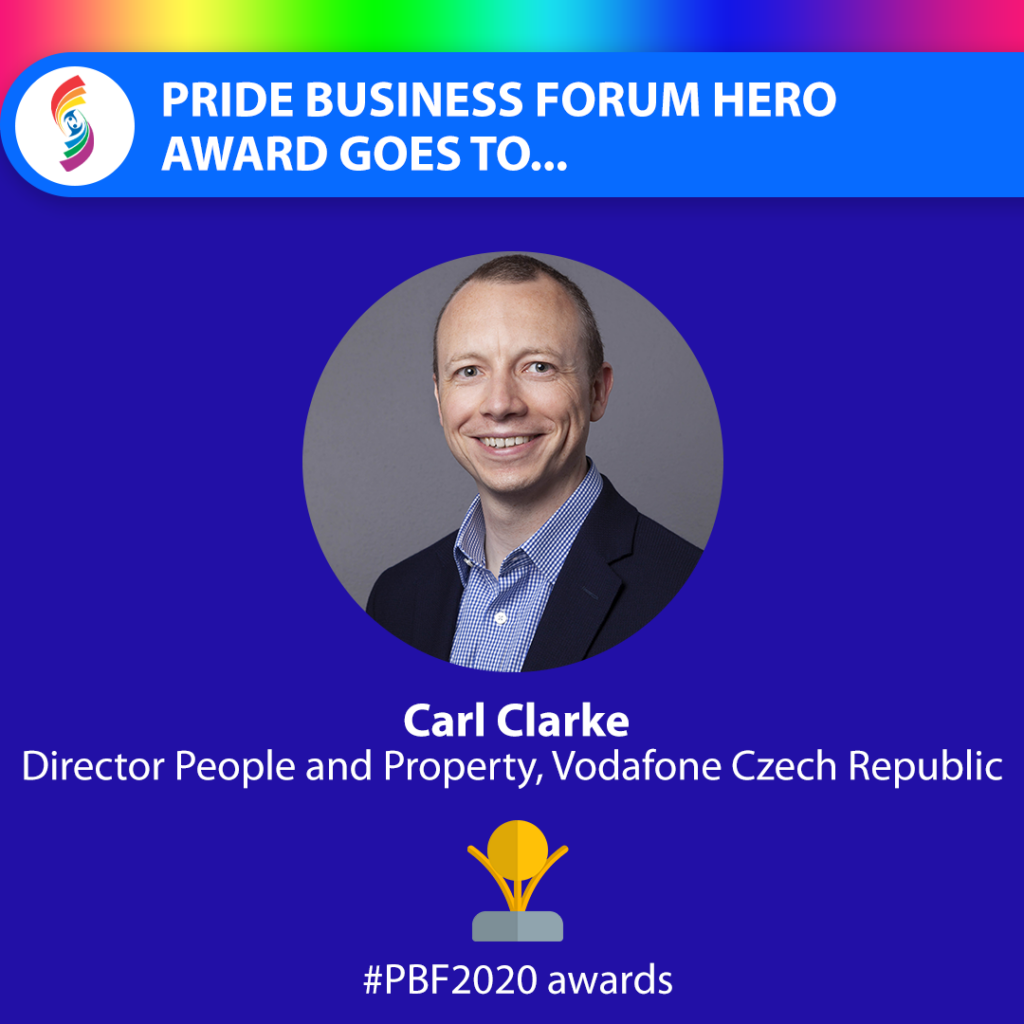 Carl Clarke, Director People and Property, Vodafone Czech Republic
Carl is passionate about authentic leadership and inclusive workplaces and is actively involved in the Vodafone LGBT and Supporters Network. Carl has led a four-year global strategy to embed LGBT+ inclusion across Vodafone's core operations. This included leading on targeted interventions (care, branding, policies, employee networks, supply chain, employee lifecycle, enterprise and customer engagement) and repositioning Vodafone as an externally recognized global employer for LGBT+ inclusion.  Internationally, he has led on changing Vodafone's global Code of Conduct and international mobility policies; coaching for senior leaders; training for allies and LGBT+ role models, and the formation of a creative two-year partnership with Google and GSK to develop LGBT+ senior leaders. He also spearheaded international research with OutNow on the experience of LGBT+ people when they start work and led Vodafone interventions to address research findings. Since arriving in the Czech Republic, Carl has coached and supported senior leaders outside of Vodafone to progress and 'get going' with LGBT+ inclusion. It has also included engaging with Vodafone's supply chain partners to influence the eco-system that Vodafone operates in. More recently, Carl has sponsored the introduction of trans-inclusive benefits into Vodafone, providing financial support to employees that transition gender at work.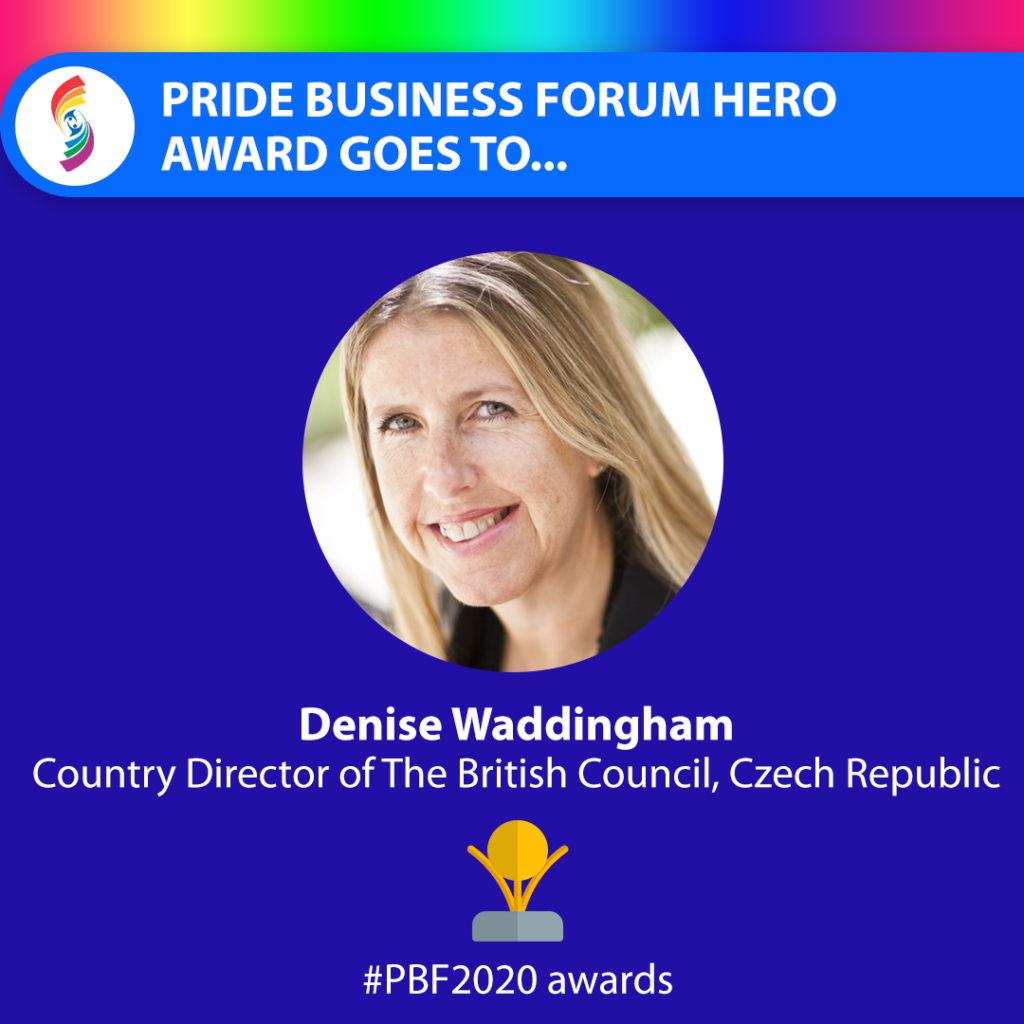 Denise Waddingham, Country Director of The British Council, Czech Republic
After joining us in the Autumn of 2017 as Country Director of the British Council, Czech Republic, Denise very quickly proved herself to be a very valuable ally and active promoter of the LGBT community. Although The British Council already has EDI principles instilled in their core values, we believe Denise goes above and beyond her role of Country Director in not only ensuring all staff are seen, heard, respected, and valued, but that important conversations are started, and that our values are shared with the community and promoted to other workplaces.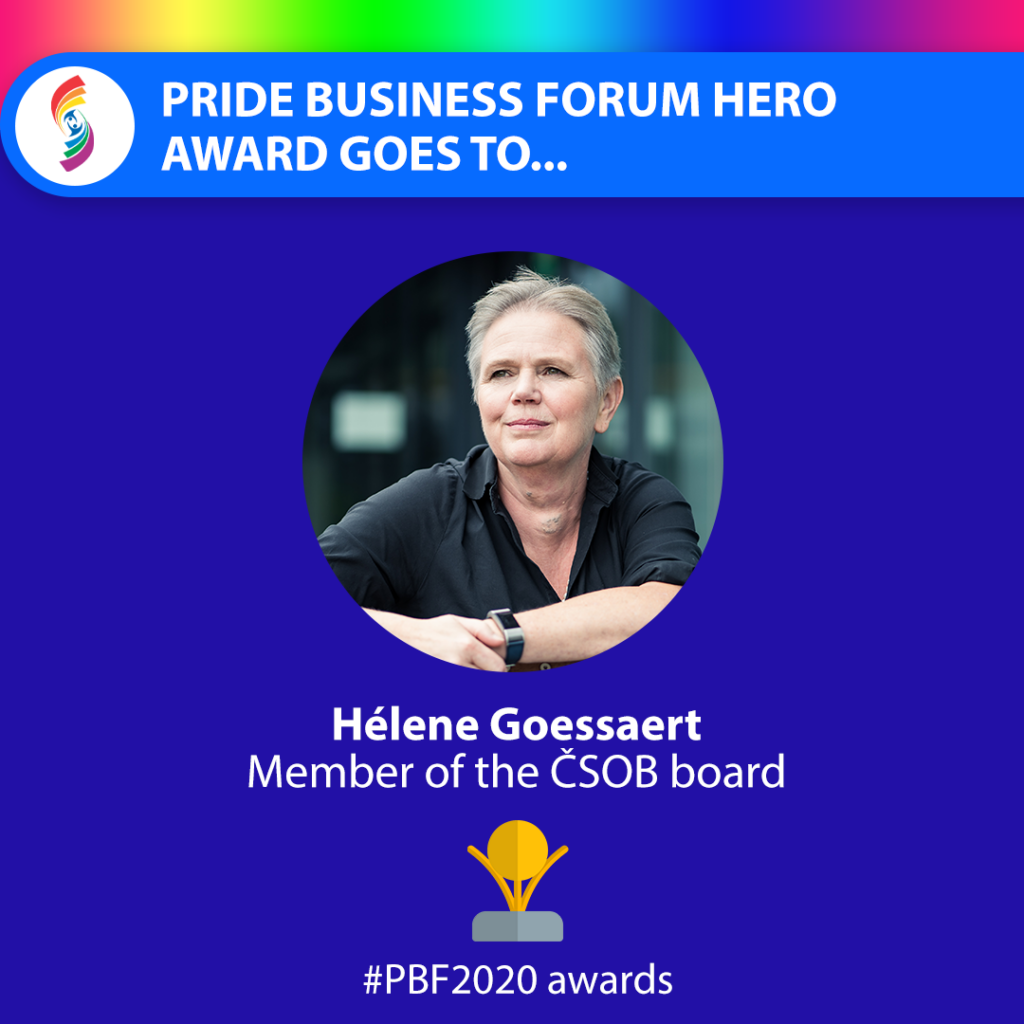 Hélene Goessaert, Member of the board, ČSOB group
ČSOB is the first Czech bank that signed PBF memorandum in 2019, based on Hélene ́s proposal. In the past, in the traditional czech environment, people did not understand why we even discuss LGBT. Hélene was able to overcome that bias and open the topic in the company. She promotes it as natural fulfilment of the basic respect values, that is part of our ČSOB culture. She regularly discuss with ČSOB Proud, and intervenes when needed (e.g. misunderstood internal communication). People know they may approach her, which creates atmosphere of trust.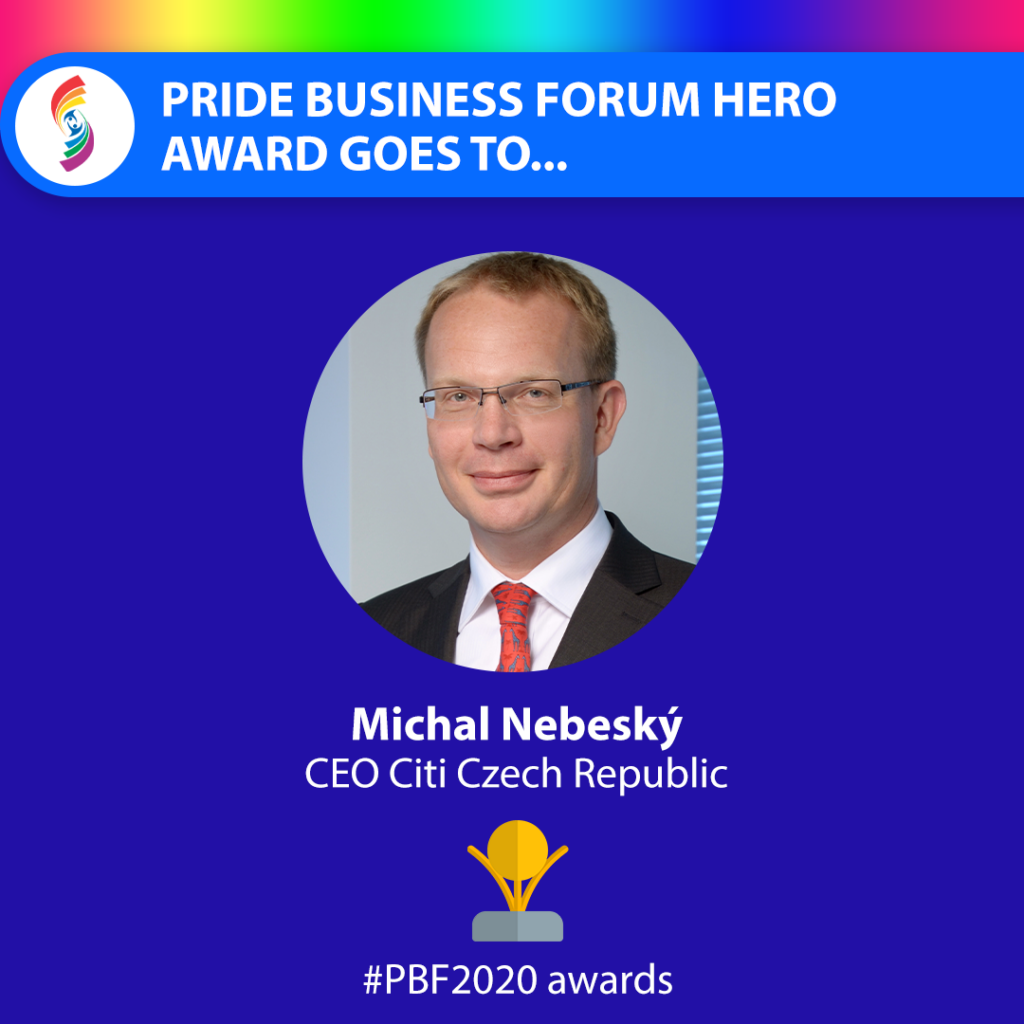 Michal Nebeský, CEO Citi Czech Republic
Michal Nebeský actively supports LGBT and has long been working to raise awareness about the LGBT community across the corporate world in the Czech Republic. During his time at Citibank, Michal supported the establishment of an internal resource LGBT group in the bank and an active dialogue between employees on this topic. Thanks to his support, Citi has become one of the main partners of peer-to-peer online mentoring site Sbarvouven.cz which offers mentoring for people coming out and also offers support groups for their parents. Thanks to Michal, Citibank publicly supported the bill on same-sex marriage and also became one of the signatories of the Pride Business Forum Memorandum on the Promotion of LGBT Diversity and Inclusion in the Workplace in 2019.