Description
We joined forces with the Mezipatra queer film festival to select the best queer movie from the previous years and bring it exclusively to the virtual movie theatres right at your home.

And Then We Danced
Georgia, Sweden, France / 2019
106 min
Language: Georgian
Subtitles: English
Director: Levan Akin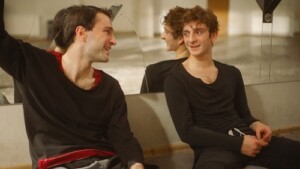 Since early childhood, Merab has been a member of the National Georgian Ensemble, which focuses on traditional dance. The lead choreographer is strict with the dancers: Georgian dance does not express sexuality, just the soul of the nation. And that means the Orthodox religion, traditional gender roles and family values. It is therefore not only the strict dance rules, but also the rigid opinions of society that influence the life of the hardworking youth whose dream is to perform abroad. But when Irakli appears at the practice sessions, Mareb's world is shaken. He faces a new rival, but is simultaneously confronted with a mesmerizing attraction to another man. Throbbing in the rhythm of energetic music, Levan Akin's sensual romance captures the desire to be free, as well as the conflict we may feel regarding our roots. This sincere, emotionally raw drama won Best Film at the Odessa IFF and Best Director at the Sarajevo IFF.
So let's kick off Valentine's weekend with a screening of a great movie. After the movie, you can stay and chat about it (or anything else) with other viewers. So make yourself a popcorn, open some bubbles, and enjoy!
Program:

18:30 Opening of the virtual movie theatre, you can already chat with other guests

19:00 Movie screening
20:40 After movie chill & chat

21:10 Closing of the virtual movie theatre   

Only registered guests will receive a code for the virtual movie night.