Popis
If…
you want to improve your workplace for your LGBT+ colleagues
you are an employee resource group/ affinity group member or have been thinking of starting one in your company
you want to get better in spreading awareness and giving yourself and your LGBT+ colleagues a voice
…then Become Stronger is the program for you!
Become Stronger is a new learning and networking program for LGBT+ champions and dedicated allies. The program provides a safe space for social connection, sharing, empowerment, and personal and professional growth. It is ideal for ERG and affinity group members and/ or anyone who is an aspiring community leader. 
IN THREE SESSIONS CENTERED AROUND ENGAGEMENT, ACTIVISM, AND COMING OUT, YOU WILL:
have a safe space to think through diversity and inclusion issues in your workplace
bond with people with similar experiences
meet inspiring peers and learn from each other
share tips on being out with pride
learn how to resist microaggressions and queer-negative attitudes
find your way into activism and active public engagement
master raising your voice effectively
boost your self-confidence
become a stronger LGBT+ champion/ ally in and out of the workplace
THE PROFESSIONAL SKILLS YOU WILL DEVELOP INCLUDE:
stakeholder management
authentic leadership skills
diversity & inclusion management
negotiation skills
The program will be led by Aleš Rumpel, training manager for Pride Business Forum and Prague Pride.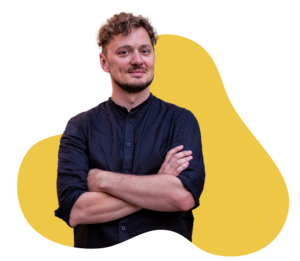 Aleš is a trained facilitator and experienced educator who has designed and delivered workshops to over 2000 professionals in international companies in the CEE region (including IKEA, MSD, Commerzbank, and ŠKODA AUTO) on unconscious bias, microaggressions, and recognizing offensive behavior. He has trained Czech school counselors and led emancipation workshops for young LGBT+ adults. His passion is creating fun and safe spaces where people can grow.
IMPORTANT QUESTIONS:
Who is Become Stronger for?
It is ideal for LGBT+ professionals and dedicated allies. If you are unsure if it is for you, talk to us!
Where will it take place?
Become Stronger will take place over three sessions, each 3 hours long, in the LGBT+ community center (Železná 18) and other venues.
When will it take place?
The dates are April 28, May 26, and June 23; each session starts at 4:30 PM.
How much will it cost?
The cost is 9000 Kč, or free for one person per Pride Business Forum Premium Member.
What do I need to do to apply?
Fill in the application form below! The deadline to apply is April 11. We will get back to you shortly. 

If you are unable to cover the cost of this course and you are under the age of 30, inquire about the possibility of a stipend at [email protected] (limited availability).

APPLICATION FORM